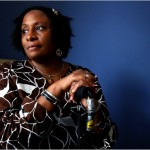 Women at arms – a combat role, and anguish too……There are three types of PTSD: Acute, Chronic, and Delayed Onset.
In acute PTSD, symptoms last less than three months.
In chronic PTSD, symptoms last three months or more.
In delayed onset PTSD, symptoms first appear at least six months after the traumatic event.
A national Co-Morbidity survey conducted in the early 1990's found that women are twice as men to experience PTSD.
Men with PTSD identify combat and witnessing some one else's injury or death most often as the cause of their condition.
Women identify physical attack or threat most often as the cause of their PTSD.