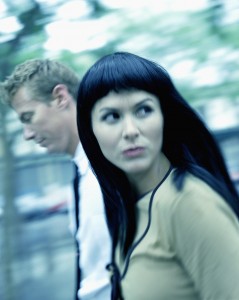 THERAPEUTIC THURSDAY: Have you had the experience of being afraid to tell a spouse, lover, partner, co-worker, child, the word 'NO'. Because telling them 'No' in the past has gotten you a reaction extremely out of proportion to the situation. Perhaps they reacted by giving you guilt, shame, fear,  rejection. So much so, you caved in and just give them whatever they wanted to stop their tantrum. As if by magic once they have gotten what they wanted from you, everything returns to love, peace and grace. Until the next time.
Afraid of Rejection and Act out when Told "NO" ? So where does the fear of "no" come in? And, the answer is…..Before we even have the capability to understand a word as simple as "no," come in? We experience "no."
We all retain that baby-like sense of being all-powerful, that we are perfect and make everything happen, as well as the fear and growing certainty that we are flawed, that something is terribly wrong with us. We feel angry, afraid and ashamed. And we don't like being reminded. The lengths people will go to get their needs met includes manipulation, anger, self-sabotage, etc.
Before we were born, we didn't even have to cry. Everything we needed came automatically, with no effort from us at all. But babies have hard lessons to learn, and the learning starts right away.
To really understand why a little old "no" can flatten the best of us, we have to go way back to when you and everyone else were born. Here goes. Infants all come into the world the same way, with no awareness of themselves as separate creatures from the people and the universe around them.
We all start out incredibly self-centered. Our little person-hood is all we know, and we relate everything around us to ourselves.We feel powerful. We are hungry and cry and get fed. We are cold and wet and cry, and magically, someone pays attention and fixes things and we feel better.
Babies learn that crying doesn't always work. From their little self-centered place, babies start doubting their power. Babies start thinking that there is something wrong with themselves, something flawed, when they can't make their environment provide what they want.
Every experience of emotion, be it cohesive or abrasive, can be made into positive reinforcement, and can build character; we must learn to listen to our emotions, to integrate or disintegrate that which its hidden message unveils.
"No!" becomes associated with restriction, punishment and, at the very least, inhibition of our behavior. And that insults our sense of being perfect, as well as activates our fear of being flawed.
Even though we are far past our babyhood (though some folks continue to act rather baby-like), we all retain those early feelings of vulnerability, of basic perfection and basic flaw.  We develop many ways to protect that tenderness, and many of us are pretty much unaware of how much those early fears control our present behavior, especially when it comes to our interpersonal relationships.